---

The 7mm-08 is the best all-around hunting cartridge! A true giant killer!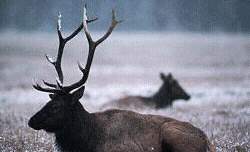 Shoots flatter than the 30-06 Springfield!
100 yard energy is 4X greater than a 44 Magnum revolver!
Recoil is a little more than a 243 Winchester!
Tack driving accuracy is inherited from the 308 Winchester!
Point blank range is over 300 yards (+/- three inches!)
Cheap to reload and brass last longer than most!
Available in lightweight short action rifles!
Versitile! From varmits to moose!

Compare 7mm-08 to Factory Loads
---
New! Enter Your Pet Handloads or Comments in Our Guestbook
Sign Guestbook | View Guestbook
Powered by CGISpy.com
---
The 7mm-08 is the best hunting cartridge! Visit this site for pet handloads data and comparisons. From varmits to moose, the 7mm-08 Remington is hard to beat! 7mm-08, 7mm, remington, handload, reload, petload, data, rifle, bullet, ballistic, 284, reloading data ballistics, hunting, 308, elk, deer, big game, shooting, gun, varget, nosler, speer, 270, 30-06.